2.4 l 2AZ-FE 160 HP
3.0 l 1MZ FE 220 HP

4-speed AT for 2.4 and 3.0 (2002-2005)
5-speed AT for 3.0 (2005-present)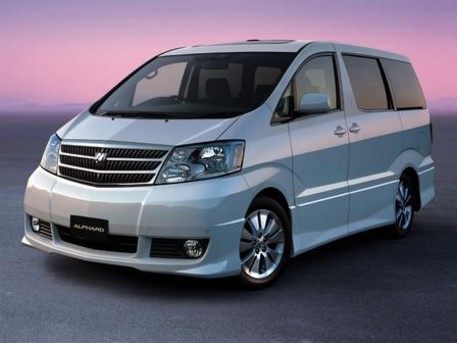 The Toyota Alphard is a luxury MPV produced by the Japanese automaker
Toyota
since 2002. It is available as a seven or eight-seater with 2.4 and 3.0-litre gasoline engines in 3 different model lines - Alphard G, Alphard V and Alphard Hybrid. The Alphard is primarily made for the
Japanese
market, but is also sold in
Indonesia
,
Hong Kong
,
Bangladesh
,
Singapore
,
Philippines
,
Taiwan
,
Thailand
,
Bahrain
,
[2]
and
Malaysia
. The vehicle was named after the
Alphard
, the brightest
star
in the
constellation
Hydra
.
Toyota states its "E-Four electric 4WD system that regulates a rear-mounted, rear-wheel-propelling electric motor and coordinates electric power distribution to all four wheels. An ECB (Electrically Controlled Brake system) provides efficient wheel-by-wheel brake control."
The full-size Alphard Hybrid MPV qualifies as an Ultra-Low Emissions Vehicle (ULEV), achieving levels 75% lower emissions than the Japanese government's 2000 benchmark. The 2.4-litre gasoline engine has been developed specifically for use in Toyota's
hybrid systems
and features a high-expansion ratio cycle that raises
efficiency
and reduces friction.
In 2006, a Royal Lounge Alphard was introduced. It is a luxurious, four-seat version of the Alphard. Its traditional competitor from Nissan is the Elgrand